Alternate language links for Governor's Residence
Governor's Residence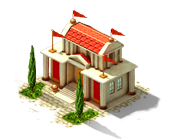 Function:
Mitigation of corruption
Requirements:
Expansion ( 

Seafaring

 )
Can only be built in a colony
Expansion requirements:





Use requirements:
None
Building Information
A governor in your colony guarantees that all the daily administrative tasks are done properly and lowers the level of corruption in your colony.
The Governor's Residence costs as much as the Palace and does not require Bureaucracy nor Governor - you can build it on a normal building ground (with a red flag on it) in your colonies - but it does require Expansion as it is needed to be built in your colonies in order to control corruption.
The Governor's Residence can also be upgraded to a Palace if you ever want to move your capital. However, if you change your capital by converting a Governor's Residence to a Palace, the Palace in your original Capital will be completely destroyed and you will then have to build and expand a Governor's Residence as a replacement for the Palace to remove the corruption that will be there.
You cannot shorten the build time of the Governor's Residence.
Expansion Details
Expansion details
Research and Reduction Building bonuses are shown in the following charts by mousing-over over the research abbreviations (P – G – SL – MR) in the chart.
You can mouse-over the letters in the "Minimum " column to see how many Warehouses are needed for that level.
You can also mouse-over the numbers in the "Build " column to get the longer version of what the numbers/Letters represent.
These reductions are separate and in addition to the researches, for up to and additional 32% reduction, providing a minimum of 46% reduction in resources.
---
The Cinetheater increases the production of and/or 1 by 20% and/or 150 
The Helios Tower increases the production of and by 10% while the tower is illuminated.  (requires )
These increases are separate and in addition to the production buildings, for 7 day increments, making the maximum possible increase in production 84%.
Remember
You can have a maximum of four (4) warehouses and one (1) dump, for a maximum of eight (8) "virtual" warehouses, per town.
Due to the large number of templates used to display the information on this building, we are breaking this building's expansion levels down into groups of 4 and 5;  instead of the normal grouping of 10
Other Buildings