Alternate language links for Shipyard
Shipyard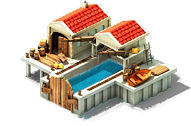 Function:
Building of Ships
Requirements:
Dry-Dock ( 

Seafaring

 )
Expansion requirements:

and

Use requirements:





Description
What would an island empire be without its fleet? At the Shipyard, mighty battle ships are made ready and launched for long journeys over the oceans. May the seven seas tremble before them!

Higher level Shipyards can build ships faster.
The Shipyard contributes to your Sea Garrison Limit.
Every level of the shipyard provides +25 spaces for your ships.
Expansion Details
Note: The time it takes to upgrade to the next level is determined by the following formula:
Expansion details
Research and Reduction Building bonuses are shown in the following charts by mousing-over over the research abbreviations (P – G – SL – MR) in the chart.
You can mouse-over the letters in the "Minimum " column to see how many Warehouses are needed for that level.
You can also mouse-over the numbers in the "Build " column to get the longer version of what the numbers/Letters represent.
These reductions are separate and in addition to the researches, for up to and additional 32% reduction, providing a minimum of 46% reduction in resources.
---
The Cinetheater increases the production of and/or 1 by 20% and/or 150 
The Helios Tower increases the production of and by 10% while the tower is illuminated.  (requires )
These increases are separate and in addition to the production buildings, for 7 day increments, making the maximum possible increase in production 84%.
Remember
You can have a maximum of four (4) warehouses and one (1) dump, for a maximum of eight (8) "virtual" warehouses, per town.
Construction Times
Other Buildings