Alternate language links for Trading post
Trading post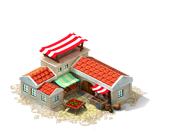 Function:
Trading between players
Requirements:
Wealth ( 

Economy

 )
Expansion requirements:


Use requirements:





Description
Edit
Merchants and traders do their business at the Trading post. There is always a deal to be made or a bargain to be had. However, merchants from far away tend to head for big and well known trading posts!
Building Information
Edit
At the trading post the player has the ability to make bargains to sell his goods for gold or to find deals and buy goods from other players for an amount of gold.
The capacity of your Trading post, is the total number of resources you can offer for sale at once and is increased with every expansion level. The range of your trading post is increased with every odd expansion level as well.
At levels 3 and 4 you can see up to 2 islands away.
At levels 5 and 6 you can see up to 3 islands away.
At levels 7 and 8 you can see up to 4 islands away.
At levels 9 and 10 you can see up to 5 islands away.
Etc...
You can see other players loading speeds, so that if you purchase resources, you can get an idea of how long it will take to load your purchase before your shipment is sent to you.
Expansion details
Edit
Expansion details
Research and Reduction Building bonuses are shown in the following charts by mousing-over over the research abbreviations (P – G – SL – MR) in the chart.
You can mouse-over the letters in the "Minimum " column to see how many Warehouses are needed for that level.
You can also mouse-over the numbers in the "Build " column to get the longer version of what the numbers/Letters represent.
These reductions are separate and in addition to the researches, for up to and additional 32% reduction, providing a minimum of 46% reduction in resources.
---
The Cinetheater increases the production of and/or 1 by 20% and/or 150 
The Helios Tower increases the production of and by 10% while the tower is illuminated.  (requires )
These increases are separate and in addition to the production buildings, for 7 day increments, making the maximum possible increase in production 84%.
Remember
You can have a maximum of four (4) warehouses and one (1) dump, for a maximum of eight (8) "virtual" warehouses, per town.
Other Buildings