Alternate language link for Tender
There is no alternate language wiki listed at this time!
Tender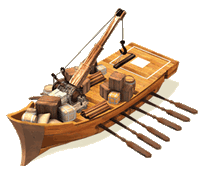 Ships
Requirements
Caulking ( 

Seafaring

 )
Shipyard Level 9
Cost
7 

300

250

250

100 

Description
Edit
A tender provides support for own ships. Trained engineers and divers can immediately fix small amounts of damage in the dock so that the units can re-enter battle immediately. Furthermore they supply the sailors with food and wine.
During sea battle, Tenders do not deploy to the battlefield.
Tenders stay in the Reserve pool
Statistics
Edit
  Hit points
  Armour
  Size
  Type
  Speed
Generals
140
-
6
Support, Machine
30

16

Cost
Cost
Cost
Cost
Upkeep
Construction 
Shipyard 
7
300
250
250
100
40m
9
| Rank | Weapon | Damage | Accuracy | Munition |
| --- | --- | --- | --- | --- |
| - First Class | Caulking Hammer | 15 | 50% | - |
Construction times
Edit
This table lists training times for each ship as a function of the Shipyard
Levels 1 through 19
 
Level

Tender
 
Level
1
40:00

⇓

⇓

⇓

⇓

⇓

⇓

⇓

⇓

⇓

⇓

1
2
38:00

⇓

⇓

⇓

⇓

⇓

⇓

⇓

⇓

⇓

⇓

2
3
36:06
50:00
50:00

⇓

⇓

⇓

⇓

⇓

⇓

⇓

⇓

3
4
34:18
47:30
47:30
30:00

⇓

⇓

⇓

⇓

⇓

⇓

⇓

4
5
32:35
45:08
45:08
28:30

⇓

⇓

⇓

⇓

⇓

⇓

⇓

5
6
30:58
42:53
42:53
27:05

⇓

⇓

⇓

⇓

⇓

⇓

⇓

6
7
29:25
40:44
40:44
25:44
1:06:40

⇓

⇓

⇓

⇓

⇓

⇓

7
8
27:57
38:42
38:42
24:27
1:03:20

⇓

⇓

⇓

⇓

⇓

⇓

8
9
26:33
36:46
36:46
23:13
1:00:10
40:00

⇓

⇓

⇓

⇓

⇓

9
10
25:13
34:56
34:56
22:04
0:57:10
38:00

⇓

⇓

⇓

⇓

⇓

10
11
23:57
33:11
33:11
20:58
0:54:18
36:06
60:00

⇓

⇓

⇓

⇓

11
12
22:46
31:31
31:31
19:55
0:51:36
34:18
57:00

⇓

⇓

⇓

⇓

12
13
21:37
29:57
29:57
18:55
0:49:01
32:35
54:09
30:00

⇓

⇓

⇓

13
14
20:33
28:27
28:27
17:58
0:46:34
30:58
51:27
28:30

⇓

⇓

⇓

14
15
19:31
27:02
27:02
17:04
0:44:14
29:25
48:53
27:05
40:00

⇓

⇓

15
16
18:32
25:41
25:41
16:13
0:42:01
27:57
46:26
25:44
38:00

⇓

⇓

16
17
17:37
24:24
24:24
15:25
0:39:55
26:33
44:07
24:27
36:06
50:00

⇓

17
18
16:43
23:10
23:10
14:37
0:37:56
25:13
41:55
23:13
34:18
47:30

⇓

18
19
15:54
22:00
22:00
13:54
0:36:02
23:57
39:49
22:04
32:35
45:08
60:00
19
 
Level

Tender
 
Level
This table lists training times for each ship as a function of the Shipyard
Levels 20 through 38
 
Level

Tender
 
Level
20
15:06
20:55
20:55
13:13
0:34:14
22:46
37:49
20:58
30:58
42:53
57:00
20
21
14:21
19:52
19:52
12:33
0:32:31
21:37
35:56
19:55
29:25
40:44
54:09
21
22
13:38
18:53
18:53
11:55
0:30:54
20:33
34:08
18:55
27:57
38:42
51:27
22
23
12:56
17:56
17:56
11:19
0:29:21
19:31
32:26
17:58
26:33
36:46
48:53
23
24
12:18
17:01
17:01
10:46
0:27:53
18:32
30:49
17:04
25:13
34:56
46:26
24
25
11:41
16:11
16:11
10:14
0:26:29
17:37
29:16
16:13
23:57
33:11
44:07
25
26
11:06
15:23
15:23
09:43
0:25:10
16:43
27:48
15:25
22:46
31:31
41:55
26
27
10:33
14:36
14:36
09:14
0:23:54
15:54
26:25
14:37
21:37
29:57
39:49
27
28
10:01
13:53
13:53
08:46
0:22:43
15:05
25:06
13:54
20:33
28:27
37:49
28
29
09:31
13:11
13:11
08:20
0:21:35
14:21
23:50
13:12
19:31
27:01
35:56
29
30
09:03
12:32
12:32
07:55
0:20:30
13:38
22:39
12:33
18:32
25:41
34:08
30
31
08:36
11:54
11:54
07:31
0:19:28
12:56
21:31
11:55
17:37
24:23
32:26
31
32
08:09
11:18
11:18
07:08
0:18:30
12:18
20:27
11:19
16:43
23:10
30:49
32
33
07:45
10:44
10:44
06:47
0:17:35
11:41
19:25
10:46
15:54
22:01
29:16
33
34
07:22
10:12
10:12
06:27
0:16:42
11:06
18:27
10:14
15:06
20:55
27:48
34
35
07:00
09:42
09:42
06:08
0:15:52
10:33
17:32
09:43
14:21
19:52
26:25
35
36
06:39
09:13
09:13
05:49
0:15:04
10:01
16:39
09:14
13:38
18:53
25:06
36
37
06:19
08:45
08:45
05:32
0:14:19
09:31
15:49
08:46
12:57
17:56
23:50
37
38
06:00
08:19
08:19
05:15
0:13:36
09:03
15:02
08:20
12:18
17:02
22:39
38
 
Level

Tender
 
Level
Other Ship